Car Shop Glow original RX7 FD3S original LED tail lights Ver.5
FD3S RX-7 / ELECTRONICS / CarShopGLOW
CarShopGLOW made tuning parts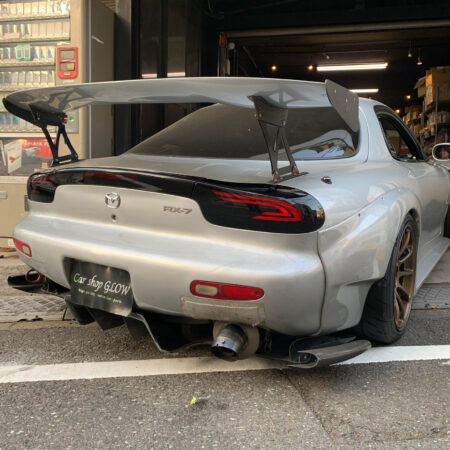 | | |
| --- | --- |
| Model | FD3S RX-7 |
| Category | ELECTRONICS |
| Brand | CarShopGLOW |
Product description
Car Shop Glow original LED tail lamp Ver.5 for RX-7 FD3S. The design is based on the LED tail lamp ver.3 for S2000 currently on sale at our company.
Based on the genuine new tail lamp, we are manufacturing with emphasis on finish, shell splitting → board processing → crimping → smoked clear paint finish.
Products
One set for left and right
Engraved with our aluminum plate (riveted)
Smoked clear paint finish processed genuine product
All processing work done in Japan
Warranty
It comes with a one-year warranty such as blown bulbs and fogging due to water droplets. (6 months for overseas shipments)
After returning the product, we will repair or replace it. (Please bear the return shipping fee.)
In any case, we cannot guarantee the wages. (Excluding installation by our company)
Compatible models
RX-7 FD3S from type 1 to type 6.
The ABS warning light may come on. In that case, a countermeasure canceller ¥ 3,980 (excluding tax). The blinker's high flag canceller has been taken care of.
Since the canceller generates heat, install it away from the interior and resin parts.
Installation
It is a coupler on with a genuine coupler.
If you bring the vehicle to our showroom (Nerima-ku, Tokyo), installation work is also possible. Separate wage ¥ 5,000 (excluding tax).
Miscellaneous
Although we are always in stock, there may be rare cases where we are out of stock. If you are in a hurry, please check the delivery date before ordering.
The LED rear garnish for images and videos is also available as an option. Please contact us separately.
Business sales are also welcome, so please contact us.
We also accept orders for one-off production of other car models.