Car Shop Glow RX7 FD3S(type5-6/00-03y) original LED Front Combination Lamps Ver.3(Attack Light)
FD3S RX-7 / ELECTRONICS / CarShopGLOW
CarShopGLOW made tuning parts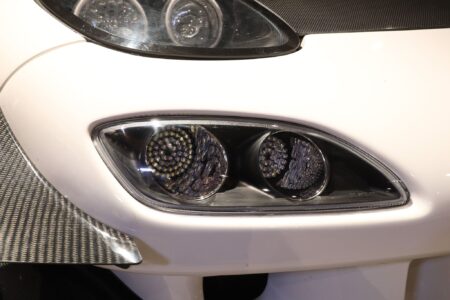 | | |
| --- | --- |
| Model | FD3S RX-7 |
| Category | ELECTRONICS |
| Brand | CarShopGLOW |
Although genuine inside is a position lamp, the outside is a turn indicator, but the turn signal lights and the position are also glowing like 4 lights.
Installation is a pon attachment of a coupler ON to a genuine coupler.
Position lamp can adjust the light intensity of 20% · 50% · 100% and lighting timing (flashing speed · pattern etc) with the included remote control.
Usage notes:
Lighting at 100% light intensity assumes temporary use as an attack light during circuit driving, so durability will decrease if continuous use for more than a certain period of time is done. Please use at 50% or less during normal driving. In addition, the lighting state at 100% will be about twice the light quantity of the conventional product (Ver. 1 · Ver. 2).