Car Shop Glow LED tail lamp for Mitsubishi Canter (base: genuine tail lamp actual product processing)
CANTER / ELECTRONICS / CarShopGLOW
CarShopGLOW made tuning parts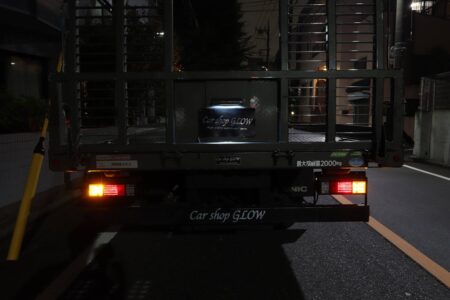 | | |
| --- | --- |
| Model | CANTER |
| Category | ELECTRONICS |
| Brand | CarShopGLOW |
Car shop GLOW original LED tail lamp for Mitsubishi Fuso Canter. Brake lamps (taillights), turn signals, and back lamps are all LEDs.
The LED tail lamp body is manufactured in Japan, and the shell is split based on the genuine tail lamp, processed for the LED lamp, crimped again, and manufactured with an emphasis on the quality of the finish.
This item is the "actual processing of the genuine tail lamp" you have.
After ordering your genuine tail lamp, we will send it to us with prepaid shipping fee (customer's expense), and we will return it after LED processing. (Delivery time: 3 weeks)
Address:
2-2-3 Toyotamakami, Nerima-ku, Tokyo 176-0011 Sakura Hills 1F
TEL.03-6794-2003
Product details
Left and right one set
Warranty
It comes with a one-year warranty, such as running out of balls and clouding due to water droplets. (6 months for overseas shipments)
After returning the product, we will repair or replace it. (Please bear the return shipping fee.)
Under no circumstances will we guarantee wages. (Excluding installation at our company)
About installation
It is a coupler on with a genuine coupler. If you bring your vehicle to our showroom (Nerima-ku, Tokyo), you can also install it. Separate wage \ 5,000 (excluding tax).
Others
It is always in stock, but in rare cases it may be out of stock. If you are in a hurry, please check the delivery date before ordering. We also welcome business sales, so please contact us.
We also accept one-off production of other models that do not sell LED tail lamps. Please contact us.