TCP Magic G-FACE Front Diffuser Type GT Carbon/FRP Made
FD3S RX-7 / EXTERIOR & AERO / TCP MAGIC
TCP MAGIC made tuning parts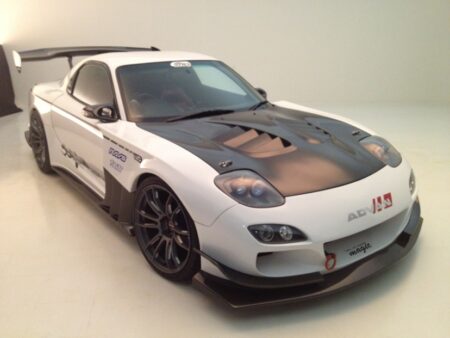 | | |
| --- | --- |
| Model | FD3S RX-7 |
| Category | EXTERIOR & AERO |
| Brand | TCP MAGIC |
When you select the country, shipping fee(Japan Post) will be calculated automatically.
But due to the Coronavirus situation, Japan Post is only accepting sea freights for most countries at the moment.
If you want the item sooner, please let us know.
We could set up the shipping with alternative carriers.
The bottom of the engine room is flat bottomed, the flow velocity of the air is increased and the Venturi effect due to the pressure difference causes the front to stick to the road surface, resulting in a down force with almost zero air resistance.
Improves ground contact at the front and improves turning when entering a corner.
It also suppresses understeer in mid-high speed corners, generating front downforce even during high-speed running in the rain, and suppressing hydroplaning.
G-FACE front bumper exclusive product.
Made of top carbon/bottom FRP.
Installation
If you bring your vehicle to our showroom (Nerima-ku, Tokyo), you can also install it. Please contact us for wages.