Supernow Pillow Ball Rear Long Arm made of duralumin RX-7 FD3S(Orange alumite)
FD3S RX-7 / SUSPENSION & ARM / SuperNow Engineering
SuperNow Engineering made tuning parts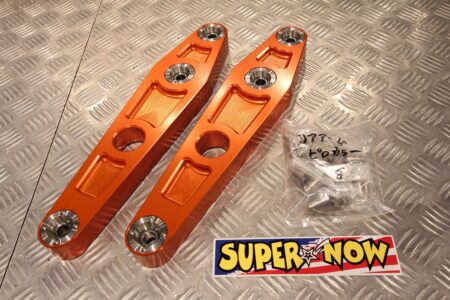 | | |
| --- | --- |
| Model | FD3S RX-7 |
| Category | SUSPENSION & ARM |
| Brand | SuperNow Engineering |
It is a full pilo and rear long arm made of super dough made of duralumin. It is a set of left and right one set.
※ 2019/06 postscript
Car inspection acquisition became possible with this rear long arm.
Procedures etc. are possible by having you attach official approval documents sold separately.
>> Super Naural Duralmin rear long arm official documents are here
Supermarket boasting technical skill is one item finished at low cost.
Lower link input section where rattling comes out immediately in Normal Bush.
Originally because the input from the lower link is intense, in the change of the piro on the normal armThe burden on the center Piro is large and there is a limit in strength.
In order to solve the weak point, by reviewing the wall thickness, material etc., the strength is secured approximately 22 times the normal ratio as a result.
Moreover, the change of the position of the pillow of the lower link receiving is also done.
The camber angle can also be adjusted up to about 5 degrees 30 minutes.
The body is made of duralumin and is an orange anodized finish.
It is exceptional in both precision and strength with 3 piece specification made by NMB.
It can be attached to all FD3S of type 1 ~ 6.
We are also wearing our demo cars, with vehicles with number, comfortable equipment
I recorded 56 seconds 4 at Tsukuba Circuit.