PAN SPEED Rear over fender RX-7 FD3S
Model

FD3S RX-7

Category

EXTERIOR & AERO

Brand

PAN SPEED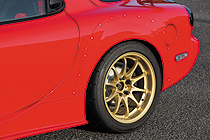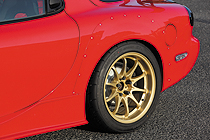 [Product description]
Panspeed rear over fender for RX-7 FD3S.
Essential for wide treads to prevent oversteer and improve traction.
[About the product]
Brand new unused
Made of FRP
[About product price and shipping fee]
This item is not eligible for cash on delivery.
For more information, please contact the staff.
[About compatible models]
RX-7 FD3S type 1-6
[Installation]
If you bring your vehicle to our showroom (Nerima Ward, Tokyo), you can also paint and install it.
Please contact us regarding wages.
[Others]
If the product is missing from the manufacturer, you may have to wait for 3 weeks to 1 month.
If you are in a hurry, please confirm the delivery date before ordering.