KnightSports REBUILT NORMAL TURBINE for RX-7 FD3S
FD3S RX-7 / ENGINE / KnightSports
KnightSports made tuning parts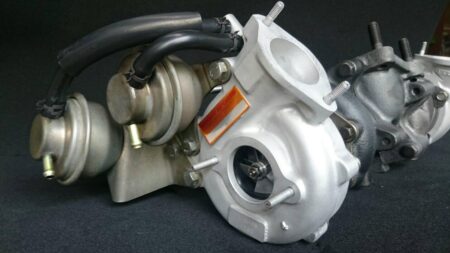 | | |
| --- | --- |
| Model | FD3S RX-7 |
| Category | ENGINE |
| Brand | KnightSports |
When you select the country, shipping fee(Japan Post) will be calculated automatically.
But due to the Coronavirus situation, Japan Post is only accepting sea freights for most countries at the moment.
If you want the item sooner, please let us know.
We could set up the shipping with alternative carriers.
It is a rebuilt normal turbine for FD3S RX-7 made by Night Sports.
Ultra-high rotation & high-temperature turbines, where the accuracy of each part and assembly is a critical factor, have a direct impact on performance.
In night sports, we use VSR testers, turbine balancers, and expertise of skilled mechanics to pursue more precision and quality than genuine. The structure has been changed from a carbon seal (genuine) to a dynamic seal, achieving improved durability and performance.
※ Genuine turbine trade-in / required exhaust manifold surface research
※ If the exhaust housing can not be used due to cracks etc., it will be 31,500 yen plus per side. Please contact us for details.
※ Please remove the oil line and water line when sending.