Multi-deflector (under panel fall prevention tape)
General Purpose / EXTERIOR & AERO / CarShopGLOW
CarShopGLOW made tuning parts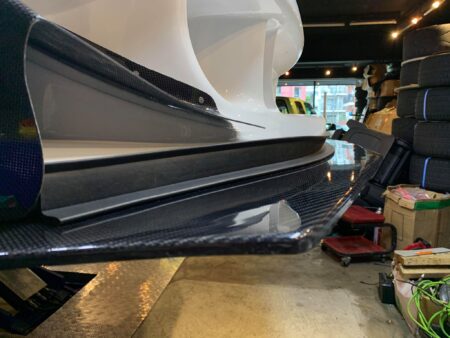 | | |
| --- | --- |
| Model | General Purpose |
| Category | EXTERIOR & AERO |
| Brand | CarShopGLOW |
When you select the country, shipping fee(Japan Post) will be calculated automatically.
But due to the Coronavirus situation, Japan Post is only accepting sea freights for most countries at the moment.
If you want the item sooner, please let us know.
We could set up the shipping with alternative carriers.
The multi-deflector is effective in preventing the front under panel from falling off.The length is 2.5m.
As 3M double-sided tape is attached, it is attached to the under panel and the gap with the bumper part is filled to suppress running wind, which helps prevent the under panel from falling off due to running wind. ..
Reference installation method
FD3S RX-7 x RE This is an example of pasting to a vehicle with Amemiya bumper.
In the case of the FD3S RX-7, if air is trapped in the gap between the bumper and the instrument panel, it will always fall off at about 120 km/h, but if you attach a dedicated multi-deflector it will not fall in the speed range around the Tsukuba circuit.
* In the case of a design such as RE Amemiya made bumper where the center part stands up and slopes downward, attach it carefully so that the upper part of the multi-deflector does not enter the gap between the bumper and the instrument panel. please.
Installation
If you bring your vehicle to our showroom (Nerima Ward, Tokyo), you can also install it. Please contact us for wages.