FD3S RX-7 Car Shop Glow Full Titanium Muffler 90Φ (Full set / intermediate straight / with CarShop GLOW plate)
FD3S RX-7 / EXHAUST / CarShopGLOW
CarShopGLOW made tuning parts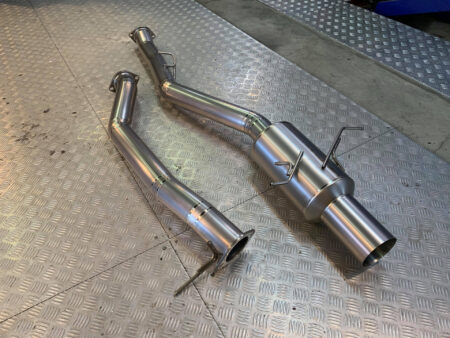 | | |
| --- | --- |
| Model | FD3S RX-7 |
| Category | EXHAUST |
| Brand | CarShopGLOW |
Car shop GLOW original full titanium muffler.
This product is a set of rear piece + intermediate pipe (without silencer / intermediate straight).
About the product
By combining with our ducktail and rear diffuser, we designed it to have a well-balanced appearance. With a commercially available muffler, it is squeezed from the diffuser etc. and it is not cool, so I was concerned about the angle and design.
If you are riding an Attack vehicle or a circuit vehicle and you do not have a cool and clear muffler, it is an excellent finish. However, please note that if you install it on a normal aero vehicle, it will come out of the bumper quite a bit. The sound quality is perfect.
The size is full titanium with main 90Φ straight and outlet 115Φ. Other than the connection flange size, it cannot be changed from the above settings.
The cutter part is solid titanium without polishing and quenching. I don't dare to polish or bake it because it feels like it's burning naturally. It is extremely lightweight and has excellent quality, so there is no need to worry about welding peeling. The weight is such that even a woman can hold it with one hand, but the durability is also perfect.
This product is a specification with a "Car Shop GLOW" plate on the tail pipe.
Flange specification change
The specifications of the flange of the connection part can be changed. When ordering, be sure to specify the connection flange size (bolt hole pitch, flange height, diameter) with the front pipe.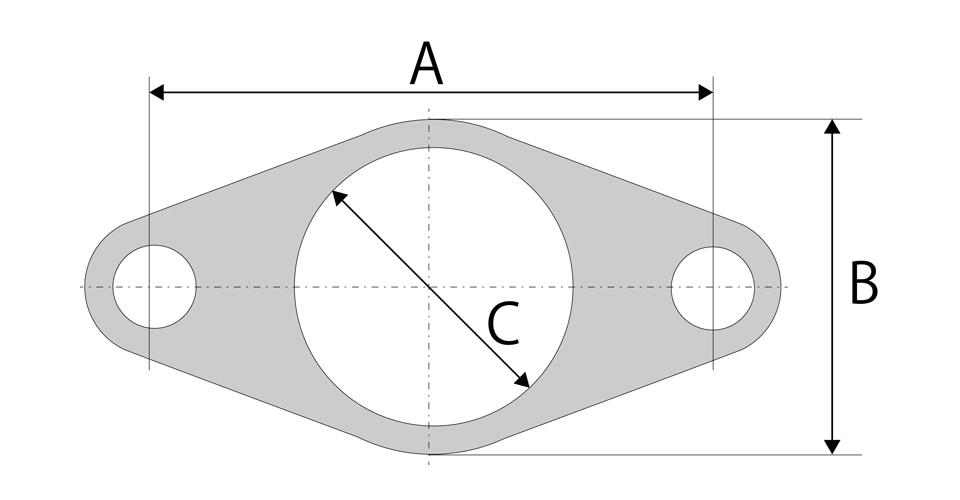 All the above A / B / C dimensions are required. Please let us know when you place an order.
A: Bolt hole pitch (mm)
B: Flange height (mm)
C: Caliber (Φmm)
Reference video (full kit with silencer)
Muffler lineup
If it is a street vehicle, it is recommended to have a silencer in the middle pipe because it will produce the original dry rotary sound if it is muted firmly.
For Attack vehicles that are as lightweight as possible, it is recommended that there is no intermediate silencer. I personally think that the sound quality is better with a silencer.
About ECU settings
I think that there are many changes from normal, 80Φ sports muffler, muffler for vehicle inspection, etc.
If you change to our titanium muffler, the fuel condition will always be out of order, so be sure to set it after mounting. If neglected, there is a good chance that the engine will blow. Even at full throttle in 2nd gear, the fuel condition is quite out of order. In short, it means that the power will increase considerably.
About delivery
This product can only be delivered to offices and stores such as maintenance shops and corporations, or to the Seino Transportation office. Please note.
The shipping fee is 7,000 yen (excluding tax) in Honshu.
Additional charges will be incurred for other areas and remote islands. Please contact us for details.
About installation
If you bring your vehicle to our showroom (Nerima-ku, Tokyo), you can also install it. The wages vary depending on the vehicle specifications (full normal / turbine / front pipe, etc.), so please contact us.