Car Shop Glow original custom RX7 FD3S carbon passenger foot rest plate
FD3S RX-7 / INTERIOR / CarShopGLOW
CarShopGLOW made tuning parts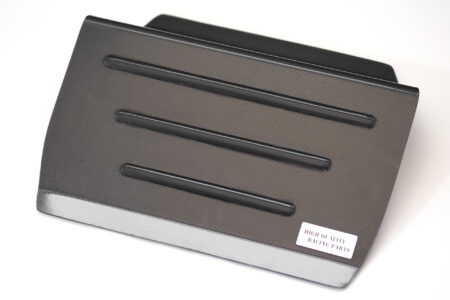 | | |
| --- | --- |
| Model | FD3S RX-7 |
| Category | INTERIOR |
| Brand | CarShopGLOW |
Product Description:
Car Shop Glow original custom RX7 FD3S carbon passenger seat foot plate.
2mm thick lightened carbon that gives a racey feeling to the interior of your car.
No matter if your drifting, going for a drive or taking it to the circuit it's easy to rest your feet on no matter the scenario.
If your friend, girl/boy friend, or wife/husband is riding along with you we are sure that they will find it a convenience.
About the product:
One foot carbon foot rest: 2mm thick carbon
Engraved with an authenticity stamp from Car Shop Glow
Mounting Velcro
Japanese Domestic Market production.

Compatibility:
RX7 FD3S type 1-6
Mounting:
Install using the included Magic tape on the floor mat.
If you want a sturdier solution please screw the plate into the floor.
Other:
We usually have stock, but there are times when rare or smaller parts are out of stock, so please be wary.
People with rushed orders please confirm your delivery time before placing an order.
For one off production for other cars please contact us directly.
If you have any other questions please contact our sales devision.