Mazda RX-7 FD3S Car Shop Glow RS Spec Coilovers
FD3S RX-7 / SUSPENSION & ARM / CarShopGLOW
CarShopGLOW made tuning parts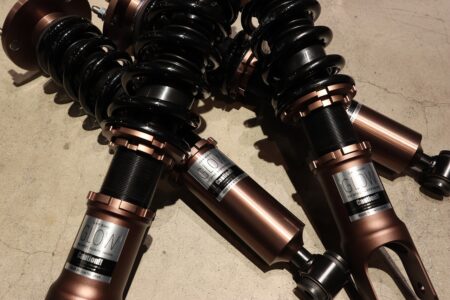 | | |
| --- | --- |
| Model | FD3S RX-7 |
| Category | SUSPENSION & ARM |
| Brand | CarShopGLOW |
Description of item
Car shop Glow RS SPEC car harmonic becomes. Based on the top model GT SPEC car harmonic, New model that gives priority to ride and street.
The GT SPEC car harmonic and the main parts are common, while on the street it ensures a supple ride, while the circuit has finished in a leg that can surely increase the time. It is not a circuit-only car but a basic street + sometimes developed for the user who is called a circuit with the aim of being the best leg. It is a confidence work directed towards the user who will be most such.
On the track, I can make sure that the traction is on the road and I can be satisfied with the city ride. As with GT SPEC car harmony, Spirit base GLOW original specification.
About the product
· Vehicle height adjustment … Full length adjustment type
· Damping force adjustment … F: 20 stages, R: 20 stages
· Spring rate (kgf / mm) … F: 16 ​​kg, R: 16 kg
· Upper mount … F: fixed type PIRO, R: fixed type PIRO
· Low Down Amount … Approx 30 ~ 50 mm
· Handmade by domestic craftsmen
· Overhaul and specification change are also available
About item price
List price (normal selling price):  214,000 yen(excluding tax) → 149,800 yen(excluding tax) * Initial lot limited price
This item is not eligible for cash on delivery. Please contact the staff for details.
In the case of a spring rate · manufacturer change, the product price will be changed. Please inquire in detail.
About installation
In case of bringing the vehicle to our Showroom (Nerima-ku, Tokyo), installation work and alignment adjustment are also possible. For labor, please contact us separately.
Other
This product is basically an inventory item. (Delivery time in case of missing items is about 3 weeks.) Those who hurry please check the delivery date before ordering.
We also welcome business sales, so please contact us. Springless production is also possible. Please inquire separately.